Production of Glengarry Glen Ross halted for 30 minutes and understudy brought on to finish David Mamet play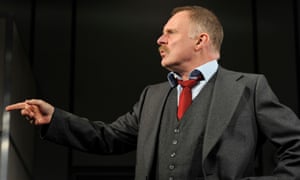 The actor Robert Glenister has frozen on stage while performing in a West End production of Glengarry Glen Ross – just weeks after collapsing in the middle of a performance.
Reports suggested the Hustle star "froze up" before the curtain came down and the play was halted for 30 minutes on Friday night.
Christian Slater, who stars alongside Glenister in the show, appeared on stage after the break to announce that an understudy, Mark Carlisle, would be taking over the role for the rest of the performance.
Audience members at the Playhouse Theatre spoke of the incident on Twitter.
The incident comes two weeks after a performance of the David Mamet play had to be stopped abruptly when the actor was taken ill.
Audience members at the time reported that he suddenly shouted "oh God" and fell to the floor clutching his chest.Carlisle took on the role in the Pulitzer prizewinning play despite not yet knowing the script.
Responding to a flurry of concern from audience members on social media, producers said on Twitter that the actor was "feeling better" after the episode.
Last month Glenister lost a legal battle with HMRC and was ordered to repay more than a decade of National Insurance contributions totalling almost £150,000.
Following the ruling, the actor told the Financial Times: "My case is one of a few hundred involving many of the UK's most successful actors … It is yet another unfair cash grab that treats genuinely self-employed actors as employees contrary to government policy. This is not a tax avoidance case and we are considering an appeal."
A spokesman for Glenister told the Telegraph: "During act 1 of Friday evening's performance of Glengarry Glen Ross, cast member Robert Glenister became unwell.
"The performance continued with the understudy, Mark Carlisle, taking on the role of David Moss. We are pleased to report that Robert is feeling better and shows will continue as scheduled."